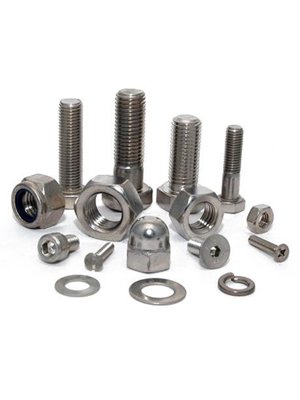 | | |
| --- | --- |
| Types | nuts, bolts, studs, washers, screwws, allen caps, clamps, etc. |
| form | cold forge & hot forge in form of hex, square, round, half thread, full thread(as per threading guage reqd.) |
| Stainless steel | 304, 304L, 304H, 316, 316L, 316H, 316Ti, 321, 309, 310, 347, 904L, etc. |
| Size | M2 – M33, Length : 3mm to 200 mm |
| nickel alloys | model, inconnel, hast alloy, nickel, cupro nickel, titanium, duplex, super duplex, etc. |
SS Fastener Dealers, Supplier & Exporter in Ahmedabad
We, Divya Steel Industries are considered as the best SS Fastener manufacturer, Dealer and Supplier in Ahmedabad, Gujarat, India. Our products are fabricated by our experts with highly advanced technique. The raw materials to assemble Fastener are of best quality and sourced from the trustworthy firm to make sure that our customers are being served with the finest products. With the help of our modern technologies and top-quality machinery, the manufacturing process of stainless steel fasteners becomes really smooth and faultless.
Stainless steel grades undergo inactivation treatment to reduce the chemical reaction on its surface by removing free ions on the surface of the stainless steel with the help of nitric or citric acid. Once the free ions are removed from the layer of the fasteners, there is a formation of a thin, inert passivity oxide layer formed. This resultant layer prevents oxidation of the Passivity Stainless Steel Fasteners, thereby preventing corrosion or rusting .In order to shine Self-Drilling Stainless Steel Fasteners, it is first handled through methods like bloodless rolling, softening and de-scaling. Following which, stainless steel receives a final light pass on polished rolls. Each piece of our stainless steel fasteners is advanced in our sound infrastructure the usage of top grade rust resistant metallic to offer the customers lengthy existence service.
Our variety of stainless steel fasteners is utilized in numerous business operations. There are varied types of fastener and they are Industrial bolts, nuts, Washers, screws and many more. We also provide you Stud bolts, hex head bolts, socket hexagon, Hexagon nuts, hexagon coupling nuts, hexagon thin nuts, Plain washer, plain big & small washers, spring lock washers, spring washers heavy duty, Pan head slotted screws, hexagon head screws, and cheese head slotted screws. We are considered as the best dealers and supplier in Vastral, CTM, Khokhara, Amraiwadi, Ahmedabad, Navsari, Porbandar, Dahod, Rajkot, Bharuch, Gujarat and many more places.
For More Information or to grab the products of your choice, Enquiry us
We are a prominent Manufacturer, Exporter and Trader of all kinds of impressive range of Industrial Fastener items like SS & Steel Fasteners.