Divya Steel is a well-known Dealer, Distributor, Supplier, and Exporter of Stainless Steel Buttweld Fittings based in Ahmedabad and across Gujarat. With many years of experience in the industry, we are one of the leading suppliers and dealers of SS Butt Weld Pipe Fittings, SS Butt Weld Fittings, SS Butt Weld Elbows, SS Butt Weld Tee, SS Reducer, SS Lr Elbow, SS Reducing Nipple and Stainless Steel Bend Dealers in Ahmedabad.
Stainless Steel Buttweld Fittings Manufacturers, Dealers in Ahmedabad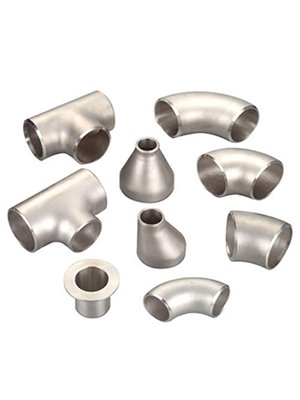 Types
45°, 90° & 180° elbow & bends, equal tee & un equal tee, short & long neck sttubend, concentric & eccentric reducers, pipe end caps, cross etc.
Stainless Steel
ASTM A403 WP304, 304L, 304H, 316, 316L, 316H, 316Ti, 321, 309, 310, 347, 904L etc.
Carbon Steel
ASTM A234 WPB
Alloy steel
ASTM A234 WP1, WP5, WP9, WP11, WP22, WP91
Dimension
ANSI B166.9, MSS SP-43
Size
1/4″ NB – 24″ NB (Seamless)
1/4″ NB – 48″ NB (ERW)
Thickness
SCH 5S, SCH 10S, SCH 20S, SCH 80S, SCH 120S, SCH 160S, SCHXXS
Nickel Alloys
model, inconnel, hast alloy, nickel, cupro nickel, titanium, duplex, super dupled, etc.
SS Buttweld Fittings Manufacturer
Divya Steel Industries is one of the prominent manufacturer, dealers and supplier of Stainless Steel Butt-weld Pipe Fittings, which offers quicker machining speeds, advanced component quality, longer device life, and decrease overall price of machined parts. It is usually famous for warmth and oxidation resistance and additionally has right resistance to chloride stress-corrosion cracking, carburization, and high-quality resistance to decreasing or carburizing atmospheres. The energy, corrosion resistance and simplified fabrication could make Stainless Steel Butt weld Pipe Fittings a value-effective alternative for excessive energy carbon steels in addition to different stainless grades. We always offer the superior quality of products at affordable prices.
We deliver those reducers to customers inside the shortest feasible time-frame. We are engaged in providing our customers a qualitative variety of Butt weld Concentric Reducers. We are considered as the best SS Fittings Manufacturers in Ahmedabad, Gujarat, India. They are synthetic as per commercial quality requirements the use of wonderful raw-materials. Made under the supervision of enterprise experts, those reducers serve flexible purposes in exclusive industries like cement, engineering, production etc. The reducers presented through us are precision-designed and may be without difficulty hooked up and maintained. We deliver those reducers to customers inside the shortest viable time-frame. The addition of molybdenum and nitrogen in Stainless Steel Cross Butt-weld Pipe Fittings implies greater effective processing device can be vital whilst in comparison with the usual grades. We additionally offer our products as in step with our valuable client's requirement. It is broadly utilized in numerous packages inclusive of strength plant, heavy engineering, offshore, vehicle and chemical. We assure clients none of our SS Fittings gets damage during shipping. We are supplying our product in the small as well as significant quantity. At reasonable rates, we are satisfying the needs of our respectable clients and industries by offering absolutely suitable SS Butt-weld Fittings. We are the Stainless Steel Butt-weld Pipe Fittings Suppliers in Ahmedabad, Surat, Jamnagar, Bhavnagar, Somnath, Valsad, Rajkot, Navsari, Porbandar, Bharuch, Dahod and many more
For more information and to seize the product of your interest, Inquiry now
Features
Outstanding Durability
Installed easily
Easy to maintain